Why GRC?
A GRC platform provides an integrated approach that powers the whole organization's performance and competitiveness. Instead of fragmented efforts and approaching issues in isolation, the unification of risk management, governance, and compliance creates a central nervous system, ensuring risk and inefficiency are discovered and treated in the early stages.
ONE organization = ONE overview
Create a unified overview by bringing together what belongs together and enjoy the joint benefits of connecting processes, architecture, risks and controls, allowing total visibility and transparency.
Better strategic decision-making and performance
Fragmented efforts and manual work slow your organization down. Identify and fix inefficient processes. Thereby allocating resources to where they are needed the most.
Proactive risk management
Our GRC platform ensures that things are done the right way: It keeps track of everything happening and raises an alert when things start to go on track or when risks appear.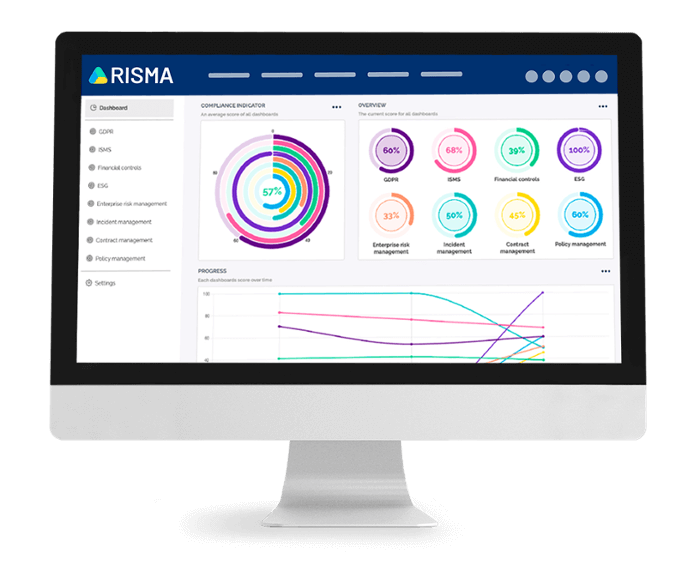 GRC Intelligence Center
Adopt a proactive approach. Stay on top of your governance, risk, and compliance, and get a complete status and performance overview across your organization.

Build confidence with board and regulators, as well as with partners and customers by establishing a strong data governance and status framework

Actively measures custom-defined KPIs across solutions, individuals, teams, and related companies

Measure GRC efforts over time by gathering historical data that indicates your compliance score and performance.
Key features of our GRC platform
AUTOMATION
You can automate your controls by incorporating them in an annual wheel, assigning roles, and choosing a frequency for how often you need to complete them.
INCIDENT MANAGEMENT
When a task or issue arises, people are assigned to address it. Incident management functionality provides an environment for tracking the work done on a case and supporting other forms of collaboration.
DOCUMENT MANAGEMENT
All documents that describe strategy, policies, controls, and reports are stored in a central location with versions and changelogs.
BUSINESS MODEL MAPPING
Visually map your business processes to gain a holistic overview, allowing you to analyze efficiency and determine where and how to implement controls for better business performance.
ENTERPRISE REPORTING
Track the performance of your enterprise and easily report the efforts without manually exporting data, and reformatting the information.
ORGANIZATIONAL AGILITY
Increase your organization's agility by establishing a proactive compliance culture.
Developed by leading experts - tailored by customers
Our cutting-edge compliance solutions are exclusively co-developed by leading experts in the field of compliance, risk, and governance.

We have turned their know-how into clear processes that give you the best practice needed to do your job with the security that there are no gaps or loose ties. Everything is based on the best standards.

While the core of our product is co-developed and constantly maintained by experts the functionality of our solutions is tailored by customers to fit their everyday needs to do their job most efficiently.

The fusion of expert know-how, our cutting edge technology, and customer feedback is what makes RISMA an industry leader in the field of GRC.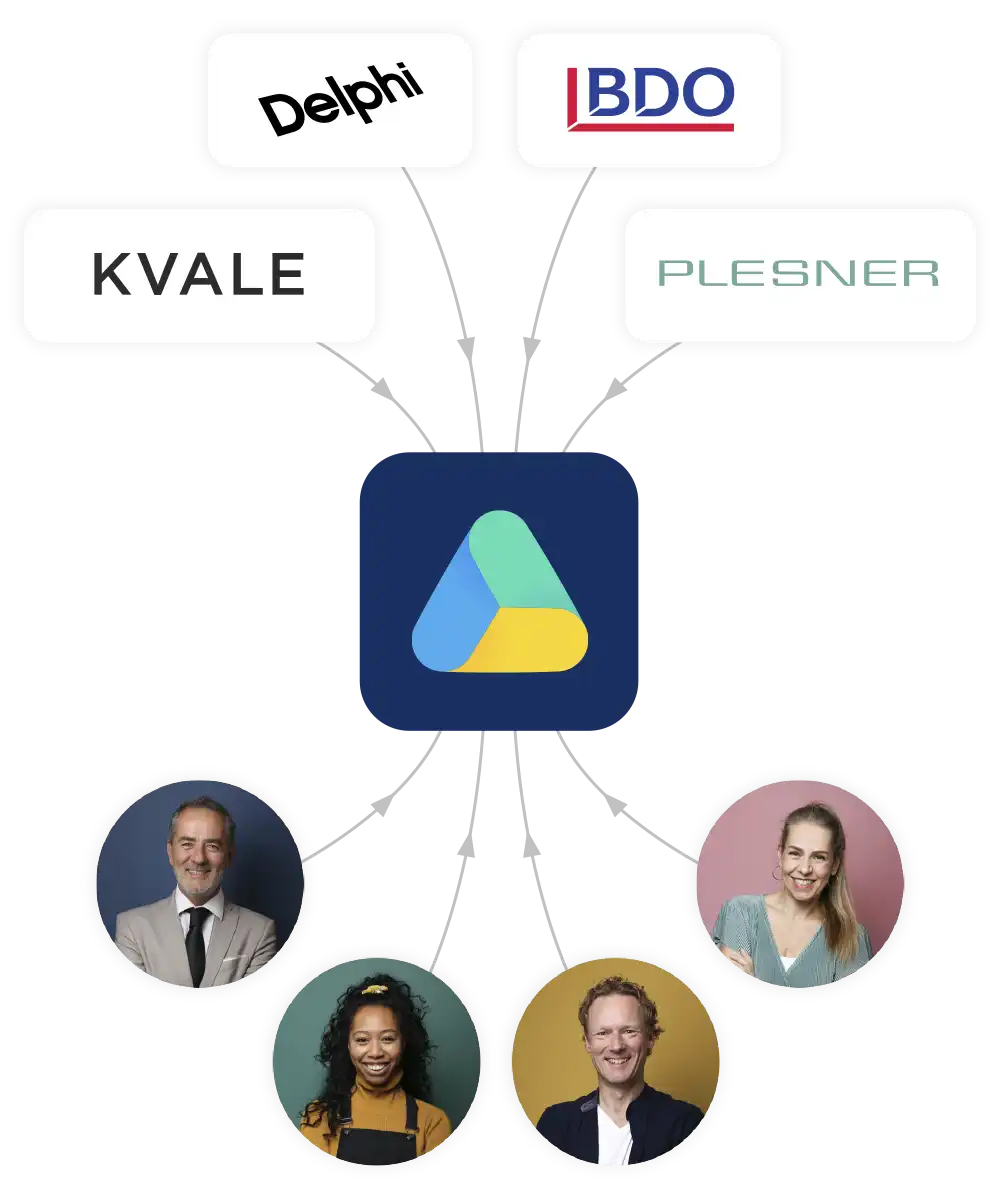 Bring it all together in a single platform
Compliance is an ever-changing area which can be difficult to keep track of. You may experience an increased number of demands from both external and internal stakeholders about your compliance with the different regulations and standards, as well as your documentation process.

In our software, we ensure that our solutions are always up to date with the latest rules, regulations and standards - they can be general to everyone, industry specific or even company specific.

Our customers can feel safe knowing that we and our knowledge partners have their backs, helping and guiding them towards complying with the applicable regulations and standards, and continuously maintaining their compliance.
Experience the power of GRC
Our GRC platform consists of unique solutions that can be combined in different ways, guaranteeing a platform adapted to your specific needs. You can always add new GRC areas to the platform – and even develop your own compliance solution using RISMA's template.
FAQ
What are the benefits of investing in RISMA's for GRC platform?
Managing compliance using disparate tools such as Word, Excel, and SharePoint can be complex and inefficient. To avoid these challenges, consider using a unified GRC platform as an alternative.

Investing in a GRC platform can also prepare your organization for future needs. As we've experienced with hundreds of customers, the demand for integrated governance, risk, and compliance solutions is on the rise.

With a GRC platform, you can benefit from:
Improved decision-making based on current data
Proactive risk management and fast handling of incidents
Automation of controls and role assignment
Documentation and easy reporting
Our platform is scalable and customizable, allowing you to start with just one or two solutions, such as GDPR and ISMS, and then add additional modules as needed. It's flexible enough to meet your evolving needs, whether you need to address corporate governance, workplace assessments, or global goals.
How long does it usually take to implement a GRC platform?
Our Customer Success team is available to help your organization get started with the GRC platform and ensure a successful implementation. Typically, the implementation process takes between 4-12 weeks, during which our expert consultants will provide guidance and support to streamline the process and help your team take full ownership of the solution. This involves approximately 40-80 hours of consultation time, spread across various phases of the implementation.