We make change seamless
Going from one way of doing things into another can seem like an overwhelming project.

We know exactly how it's when a project feels like a marathon. You should not feel overwhelmed, because we'll run together until the finish line.

Over the years we have helped over 500 companies, ranging from small businesses to large enterprises, to seamlessly transition from their existing way of doing things into RISMA's platform. In short, you are in safe hands throughout the process.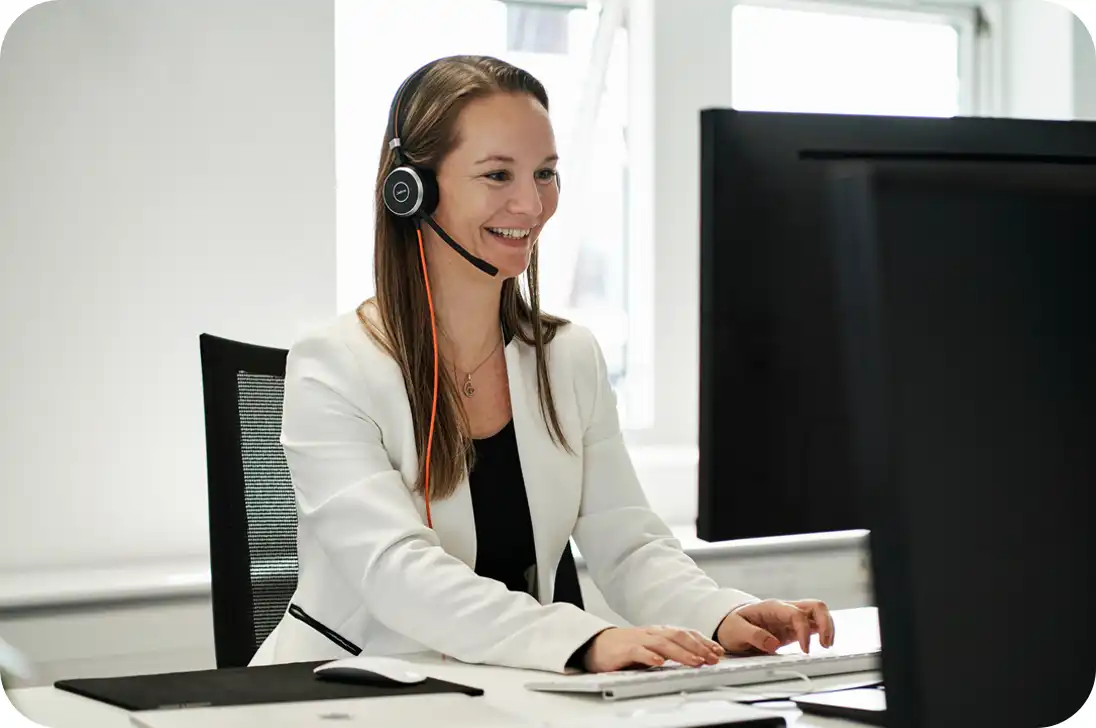 We adjust our product for your needs, and not the opposite
Every organization is unique and therefor every solution we provide must be as unique. This happens throughout a solid 5 phase implementation process.
Kick-off
The first phase is about kicking of the project by understanding the scope, expectation, resources, goals and project team. Based on that we'll setup a project plan to ensure that the project run smoothly.
Migration of data
In this phase we'll start looking into the existing data to create overview and structure of the existing work including policies, procedures, contracts and systems.

This will allow us to understand the logic and system behind your work. This logic will be transferred into our system so you can continue working with the same data in a much more simplified way.

After creating the overview we'll start to migrate the data from for instant Excel or any other solution you are currently using into our platform.
Setting up your unique solution
In phase 3, we tailor the platform to meet your requirements and needs.
Education
In phase 4, your solution will be tailored, and everything is setup to start running. Now we'll turn the focus from build the solution to educating about the solution. Our customer success team will educate the project group and other relevant stakeholders on using the platform and its many functionalities through workshops and 1:1 meetings.

As your learning curve increases, you will notice the platform's enormous potential and possibly request more features or adjustments.
On-going support
Once the solution has been implemented in your organization, the Customer Success team will help with the needs and challenges that may arise when you start to operate in the platform by yourself. We answer all inquiries quickly by phone, e-mail and chat.

In addition, we have created a knowledge database where customers can get answers to many of their questions and thus get quick self-help.

We regularly update the knowledge database with new articles that reflect the questions and challenges that we experience many customers have.
We are not just a software. We are a partner.
We are proud of being one of the most cutting-edge GRC-platforms in the Nordic market. However, our true uniqueness is how much we care for our customer's success.

That's why we believe that success comes from cutting-edge technology + on-going education.

Here is a short list of how we educate our customers:
Exclusive Product Training Webinars
As a customer you'll be invited to events and webinars several times a year. Here we demonstrate new functionalities and product roadmap. This is a great opportunity to provide input on specific needs you want to have developed or adapted.
Know-how from leading experts
During the implementation new clients will get 1:1 consultation with the leading experts to ensure that everything is perfectly setup. The number of hours are determined in the start of the collaboration.

For example, if you buy our GDPR solution, you will be advised by the lawyers in the personal data team at Plesner Advokatpartnerselskab. And if you buy the ISMS solution, you will be advised by the specialists at BDO Denmark.
Best Practice
We know that the biggest challenge working with compliance, risk and governance is having best-practice to follow to exactly know what needs to be done and how. Therefore, we have developed most of our products with leading experts in the legal field to ensure that best-practice is built into all our products.
In addition to that, our clients will get exclusive access to webinars with our knowledge-partners, so they constantly are updated on the legal front.

In addition to best practice from experts we arrange 3-5 ''Experience-sharing'' workshops so you can learn and get inspired from other practitioners in your field using RISMA platform.
Workshops
We offer our customers different kinds of workshops in connection with:

New employees to be introduced to platform

Solving specific requirements

Training managers to use the platform
We adapt the individual workshops so that the agenda reflects your specific needs and wishes. Workshops are a separated service we offer for our clients during their journey with us.
FAQ
What does RISMA's solutions cost?
The price of RISMA's GRC Platform depends, for example, on which compliance areas the solution must contain, the company's size, number of user licenses, etc. In order to get you a price that is tailored to your needs, simply contact us here
How long does it take to implement a GRC platform?
To get the best possible start with the GRC platform, our colleagues in the Customer Success team are ready to help your organization get started. You should expect the implementation to take about 4-20 weeks. During those weeks, our consultants will adapt the implementation process to your needs so you can streamline the process and take ownership of your solution.