Tired of workarounds in Excel or Jira?
Excel is perfect for calculation. Jira is perfect for project management. RISMA is perfect for ISMS compliance. Everything in our solution is built with experts and modified by customers to perfectly match your needs requirement so you can ISO comply in the most efficient and seamless way.
Gain Total Visibility
With a glance, you'll have a total overview through a complete mapping of your information assets allowing you to easily identify and close gaps.
Complete visual mapping of all your information assets
Manage policies and proceduresin the process library
Tailored Action Plan
Turn your insights and gaps into a tailored and comprehensible action plan with follow-up actions and controls to ensure things get done and on time.
Create transparency across the different departments
Create annual wheels with automatic controls
Help employees save time and resources
Continuous Compliance
With on-going controls, you can make sure gaps remain closed. It ensures your continuous compliance and supports the 114 Annex A control objectives in ISO27001.
Automation ensures tasks are completed correctly & ontime
Central catalog of IT Controls
Report & Documentation
Easily extract a complete Statement of Applicability (SoA) document, report on progress, and get a full documentation of the organization's security.
Risk documentation report
Report progress on the action plans
GRC Intelligence Center
Adopt a proactive approach. Stay on top of your governance, risk, and compliance, and get a complete status and performance overview across your organization.
Build confidence with board and regulators, as well as with partners and customers by establishing a strong data governance and status framework
Actively measures custom-defined KPIs across solutions, individuals, teams, and related companies
Measure GRC efforts over time by gathering historical data that indicates your compliance score and performance.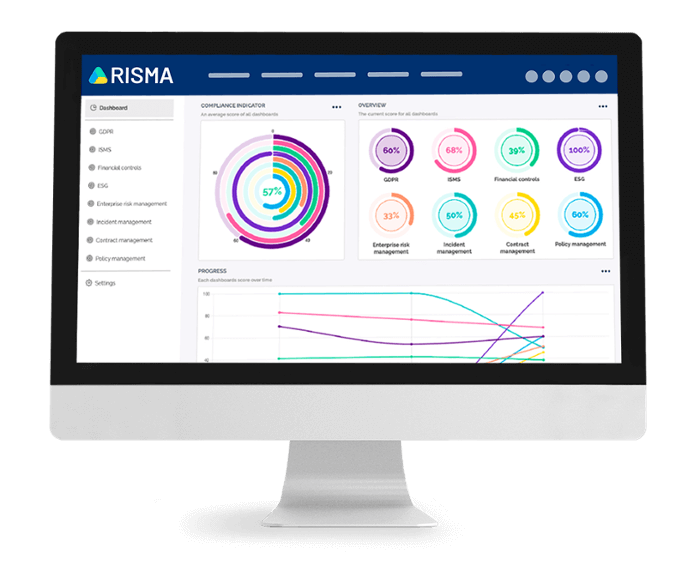 Key features in our ISMS solution
SUPERVISION WITH IT SYSTEMS
The feature enables you to get an overview of your various IT systems, so you can evaluate them.
INTERNAL AUDITS
Internal audits give you an overview of the actions you need to take to achieve compliance across the entire organization.
POLICY MANAGEMENT
The process library gives you the opportunity to structure your policies and procedures and create awareness about them.
GET OVERVIEW AND CHECK
A clear gantt chart will help you to keep track of the progress of your efforts, while an annual overview will give you insights into whether people are doing their controls or not.
AUTOMATE PROCESSES
You can automate processes, making it easy for your organization to ensure that delegated tasks are followed up by the individual.
CREATE AWARENESS
You can communicate directly with colleagues when, for example, they need to confirm that they have read and understood new updates – e.g. new policies or procedures.
ISO 27701 - Combined ISMS and GDPR solution
Information security plays an important role in the EU's General Data Protection Regulation, which aims to ensure that all companies increase information security, create transparency, and secure data subjects' rights when it comes to big data flows inside an organization. By combining our ISMS solution with our GDPR solution, you and your colleagues can work towards complying with the data protection regulation and following the ISO 27701 standard at the same time.
General Data Protection Regulation
Manage compliance frameworks, controls, risks, policies, and reporting in one integrated solution.
Read about our GDPR solution

➝
Risk Management
Define, assess, analyze and mitigate your organization's risks and turn your insight into strategic assets.
Read about our Risk solution

➝
ISO 27001 Compliance
We guide you through the process step by step
Risk Assessment
Firstly, you need to identify the risks of your organization. For example, coronavirus, theft, hacking, ransomware, and system crashes. The risk assessments help you gain an overview so you can narrow your efforts to areas that are above your risk appetite. The risk assessments are based on our threat and vulnerability catalogs as well as probability. Then, you can do an impact assessment - FIT, CIA, or your own setup.
Identify information assets
You must identify information assets that are relevant to your information security – i.e. data controllers, data processors, suppliers, and systems. It will provide an overview of the scope of your information security work. This means you get a strategic management tool that helps you determine the objectives, boundaries, and responsibilities of your IT security policy.
Gather information
Using a structured questionnaire, based on the control objectives of the ISO 27001 standard, you are guided through the information gathering process. The ISMS solution makes it possible to delegate information tasks to different people, so the most qualified employees provide the input. You can also create specific questionnaires that target your data processors and system administrators.
Gap Analysis
Once the necessary information has been collected, you need to create and associate risks with your systems and data processors. This will allow you to do a gap analysis where you compare the 114 Annex A control objectives with your information. Along the way, you can easily extract a complete Statement of Applicability (SoA) document and get a full documentation of the organization's security measures.
Mitigating Actions and Controls
When the gap analysis has been made, you will have a 114-step plan for your further work. Link controls or initiatives at each step that minimize the gap and mitigate the identified risk. Controls may include, for example, samples, logs, and back up tests