Transparency: The key to successful risk management
Risk plays a central role in almost every future focused organization. However, with the increase of complexity it's becoming harder to navigate through the risk landscape with confidence.

RISMA Risk Management solution helps you create a crystal-clear overview so you can be on top of worst-case scenarios at all times.
Overview with a glance
Maintain a clear overview and monitor everything from your dashboard. Analyze without limits. And let your data speak for itself.
See the correlations between risks across the organization
Identify mutual influences and plan your efforts
Set up guidelines and delegate risk follow-up
Efficient Risk Mitigation
Prioritize and use your resources effectively on your most critical risks. Ensure transparency, constant monitoring and automated tracking of executed controls.
Guided approach to risk management
Automate your controls and select frequencies
Achieve better knowledge sharing and transparency
Risk & Control Documentation
Get rid of spreadsheets and manual work by keeping all your controls in a central database. Link them to related assets for greater transparency and effortlessly assign role and responsibilities.
Make decisions on an informed basis
Document your risk management
GRC Intelligence Center
Take a proactive approach. Stay on top of your governance, risk, and compliance, and get a complete status and performance overview across your organization.
Build confidence with board and regulators, as well as with partners and customers by establishing a strong data governance and status framework
Actively measures custom-defined KPIs across solutions, individuals, teams, and related companies
Measure GRC efforts over time by gathering historical data that shows your compliance score and performance.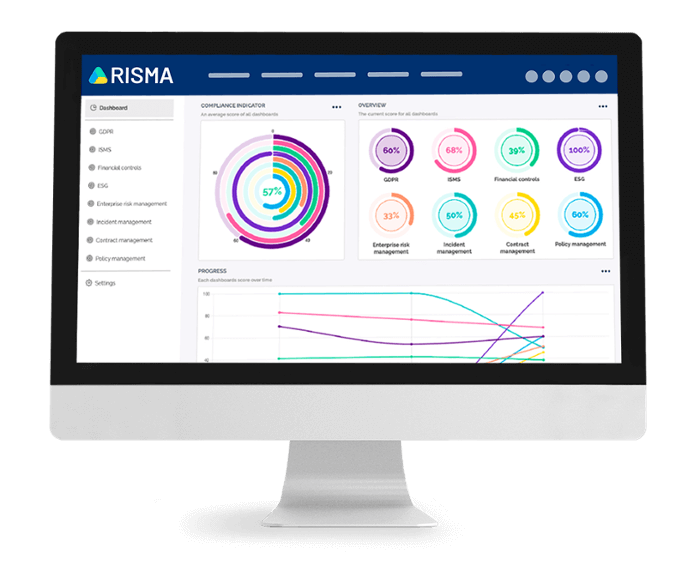 Enterprise Risk Management, step by step
You get a tool that, through various steps, makes it easier and more manageable for you to manage your risk management.
You create relevant parameters from which you want to assess the risk.
You initiate mitigating actions to reduce the probability, thus, reducing your vulnerability.
You can continuously monitor and evaluate existing and new risks, and thereby maintaining your risk landscape.
Risk assessments are worth nothing without mitigating actions and follow-up controls. Of course, we have taken this into account in our solution, so that you get a 360-degree view for your enterprise risk management.
Risk management on several levels
No matter what types of risks you need to deal with, our software can help you stay on top of all your risk scenarios. We provide software for risk assessments such as:
Enterprise Risk Management
Information Risk Management
Risk assessment for data subjects
Operational Risk Management
Implementation of the risk solution
To get a good start with the risk management solution, our colleagues in the Customer Success team are ready to help you with a well-planned implementation process.

After many implementations, they know best practice and what it takes to ensure a successful implementation process. They will also provide ongoing support during the implementation phase to ensure that you get the most out of your solution.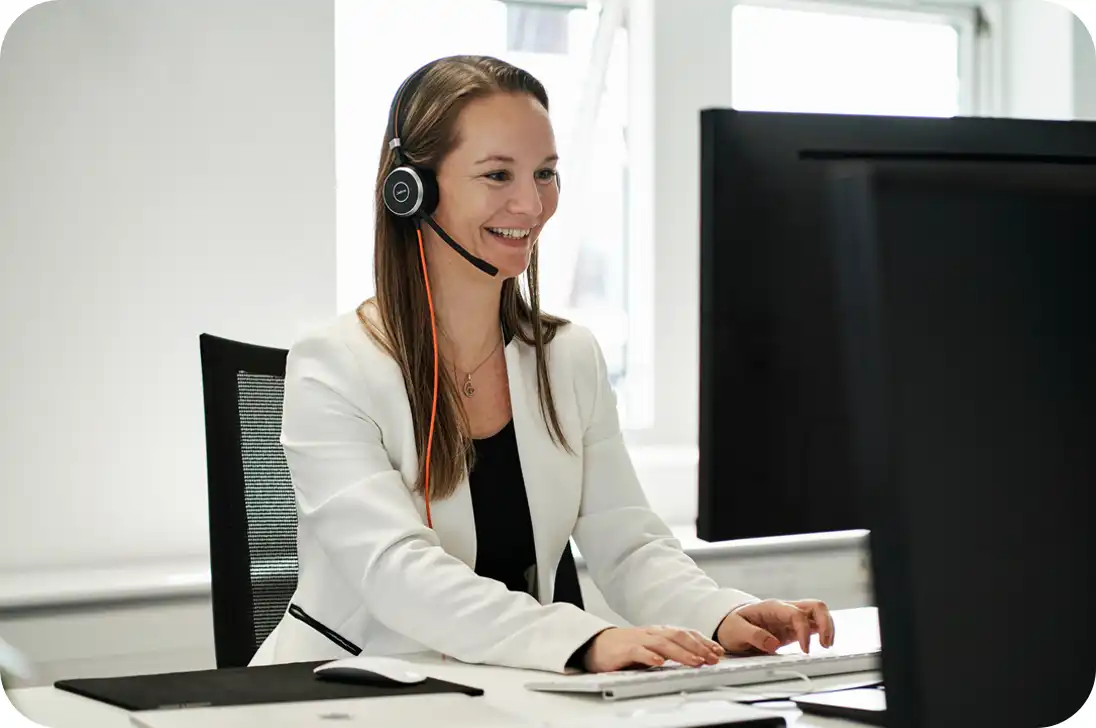 A GRC Platform To Bring The Organization Together
Power your organisation by connecting data, teams, action and reporting in an integrated GRC platform.

Whether you deploy one, two, or all our solutions, RISMA GRC platform provides great value by boosting collaboration, increasing visibility, and saving time for everyone involved.
FAQ
What is Risk Management?
Risk management is a crucial process that enables organizations to identify, assess, and mitigate potential risks that could affect their operations. It involves a systematic approach to managing risks and determining the best course of action to minimize or avoid them.

As part of the risk management process, you must first identify the potential risks that could impact your business. This requires a risk assessment that considers both internal and external factors, including economic conditions, regulatory changes, and technological advancements. Once the risks are identified, they must be assessed to determine the likelihood of occurrence and the potential impact on the business.

Based on the assessment, risk management strategies can be developed to help the organization avoid, minimize, or transfer risks. This could include implementing security measures, contingency plans, or insurance policies. By managing risks effectively, organizations can make informed decisions and prioritize investments and initiatives to achieve their goals while minimizing potential negative outcomes.
What are the 4 main types of risks?
There are various types of risks that organizations can face, and the nature of the risks usually depends on the industry or market in which they operate. However, there are some common risks that can impact any organization. These include:
Strategic risks, such as the entry of a new competitor in the market
Compliance and regulatory risks, such as the introduction of new rules and legislation
Financial risks, such as interest rate increases on corporate loans or non-payment
Operational risks, such as IT viruses or theft of equipment
Additionally, there are other types of risks, including natural disasters, health and safety crises, and commercial risks, such as failures from key suppliers or customers.
What are the essential steps in a risk management process?
The risk management process involves several steps that help identify and manage risks that could negatively impact the business. These steps typically include the following:
Risk identification: This involves identifying risks that could potentially harm the business.
Risk analysis: In this step, the probability and potential consequences of each identified risk are evaluated.
Risk assessment: Based on the risk analysis, the extent of the risk is assessed as a combination of probability and consequence.
Risk response: Once the risks have been assessed, the organization can decide to accept the risk, avoid the risk, or mitigate the risk by implementing control measures.
Risk monitoring and review: The risk management process is ongoing and should be continuously monitored and reviewed to identify new risks or changes to existing risks.
What standards and framework does RISMA offer in their risk management solution?
RISMA is a versatile solution that can be tailored to meet various standards and frameworks. The solution can be configured to work with the following key risk management concepts:
Probability and consequence analysis
Risk tolerance and risk appetite management
FIT/CIA analysis to assess confidentiality, integrity, and availability
Threat and vulnerability identification
Users can also define their own parameters or criteria and easily add new ones as their organization matures.

Our existing customers currently use RISMA's risk management capabilities for various use cases, including:
GDPR compliance
ISMS (information security management system)
Outsourcing risk assessments.