In March 2022, we launched a new and exciting feature to provide companies with a complete overview of their GRC status and KPIs across their organizations.
If you are in charge of governance, risk, and compliance or have a team that manages it daily, then GRC reporting to the management, board, or authorities will most likely be at your table.
You may already be using a software solution, but when it comes to getting a complete overview of your company's GRC-insights and performance, the task becomes far more complex. This is partly because GRC tasks usually take place across several functions. The extent of the manual work and checklists can be overwhelming and resource-intensive.
As a solution, we introduced the GRC Intelligence Center on top of all our solutions. You can now get a complete overview of your GRC status and performance across the organization - to make better business decisions based on the same insights, reports, and KPIs.
Get a complete overview of your GRC-status and performance
The new GRC Intelligence Center will be accessible in all RISMA solutions and will provide customers with the following:
Never lose oversight of your risk management or compliance activities. Gain real-time insights into all relevant KPIs across solutions, individuals, and teams.
Build confidence with your customers, board, management, and regulators by establishing strong data governance and status reporting.
Identify your company's strengths and weaknesses to make better business decisions. Define all relevant KPIs to measure compliance and performance progress.
READ MORE: See how the GRC Intelligence Center brings new reporting functionalities to your RISMA solution
Key functions and benefits
You will get access to the following essential functions: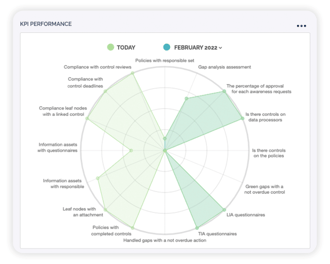 Data insights – all in one place
Access all KPIs

across solutions, teams, and departments

Get

actual insights about pending requests or low compliance levels
Insight's data are delivered in

real-time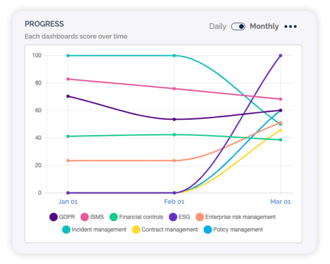 Actual compliance score and progression over time
Measure the efforts through

custom-defined KPIs.

You decide the level of ambition
Accumulates historical data

from the time of implementation

Identify and respond

to non-compliance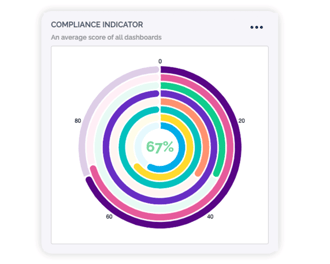 Effective Status Reporting
Effective status reporting

to the board, management, and authorities

Easy separation of reporting

to, for instance, management or board

Share and compare

with internal and external stakeholders
READ MORE: Why chose a GRC-platform?